Is your little girl approaching her birthday and soon going to be 8 or 9 years old and you planning on surprising her with her own little magical room? let us help you with some amazing ideas to design the room of your little girl incorporating her individuality and interests.
Kids grow up at a rapid pace and we only have this finite time to create something really magical for them which triggers their imagination and inspire them to become who they want to be.
1. Choosing a Color Theme
Avoid Crayola colours on the walls when choosing a theme. Just because you are working on a girl room décor doesn't mean you have to be inspired by their crayon box. You don't want your child to grow up hating a particular colour because it was poorly done in their childhood room.
Figure out the dominant colour you would like to feature and choose a softer version of that hue. Check out this unicorn theme bedroom for instance, wall paint is a soft hue of lavender, a blend of purple and pink.
2. Do Not Go Over Board W

ith the Theme
When it comes to choosing girls bedroom theme, consider accents and interests that acknowledge your child's hobbies without making them feel bound by them as they evolve and transition to tween and then teenage. Here in this room "The Princess Theme" seems a little over-done. Little girls' interests change rapidly and suddenly, so opt for the theme elements easy to swap out.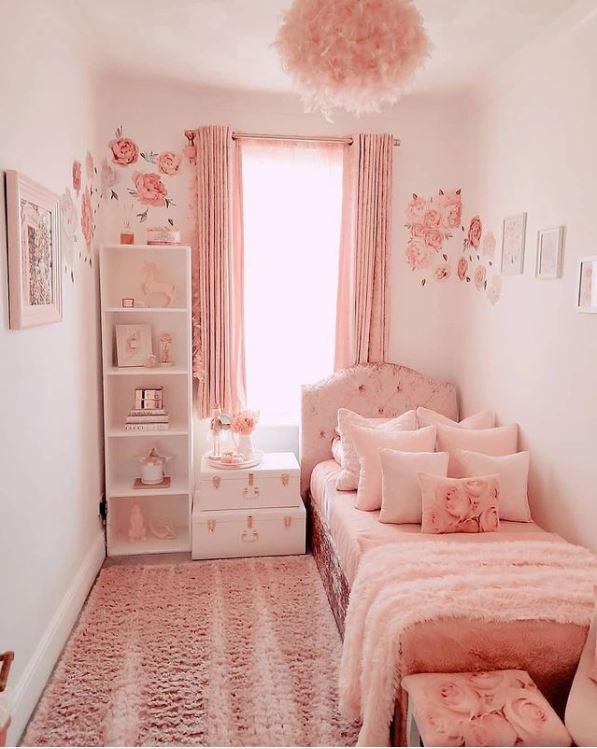 3. Use Narrow Furniture
If your girl has a small room, use narrow furniture to make space for all essential items while keeping it a bit roomy.
Here the whole bedroom is decorated in white theme to have an open feeling of the space. The small space has been utilized well with the help of narrow furniture and a day bed. White wall paint has given a perfect canvas for a starry theme wall beside window to give it a magical touch.
4. Loft Bed
If you are looking to free up some space in the room, Loft beds are the perfect choice. Loft beds offer lots of under bed storage for desks, wardrobes or cosy play spaces!
5. Trundle Bed
How dreamy is this playhouse bed? with an additional trundle bed tucked neatly underneath. A trundle bed is perfect for sleepovers and has handy storage for extra bedding or toys.
6. Create Accent Walls
Trigger your little girl's imagination by keeping the eyes moving and engaged. Apply no-commitment decals on the walls to add visual interest. The easiest way to do is by pasting playful wall papers. Think about the mood and feeling you are trying to evoke. And select the paper with a colour story and pattern that helps that feeling out.
7. Accent Ceiling
Try wallpaper on the ceiling for an element of surprise. Grab glow-in-the-dark starry stickers from amazon to create a glowing starry sky on the ceiling.
8. Playful Rugs
Get a fun rug for your girl bedroom. A hopscotch rug is perfect for a girl who loves playing and jumping around. Source durable fabrics and material for kids' room that are easy to wipe down and clean.
Check out this beautiful use of colours in cushions and pillows to pop the colour in the room while keeping the overall décor subtle
9. Or Use Carpet Tiles
You can setup carpet tiles for girls who love arts and crafts and patterns. She will never get bored of her rug playing up with them creating different patterns.
10. Designate Zones
Kids tend to use the entire room as their play area. There is no distinction between sleep, play and study. Its up to you as a parent to help them find those key zones and designate space for activities. Else, the entire room can get pretty chaotic and cluttered. In small rooms, use vertical space to designate these zones.
11. Bean bags
Kids need somewhere to kick back and relax after a long day. A brightly colored beanbag will do the trick and add a pop of color to the room. Check out a wide range of bean bags on Amazon matching your little girl's room theme whether its unicorn theme, princess theme, rainbow theme or mermaid theme.
12. Use Double Rod Curtains
Privacy and light control are just as important in kids' room as it is in any other room in the house especially for the young children when full blackout is more conducive to deeper sleep. Source layers for window treatment for this purpose. Use Double rod curtains to hang sheer curtains for when you want the room fully lit and bright and full blackout curtains to announce sleep time.
How gorgeously unicorn theme has been incorporated in curtains in this girl's room.
13. Using Wall Scones
Wall scones are great to install in kids' room as they free up floor space and so they don't accidently knock over the table lamps.
14. A Personalized

Touch
Give their room a personalized touch by hanging a name plate either on the door or inside the room on the wall.
15. Using Cube Storage
The multi-functional cube storage has been an absolute saviour in kids room. They can be styled in countless ways using as much vertical space as you like. You can get the cube storage inserts in any colour and theme to create a unique design. Use them to have a splash of colour in form of décor items atop the cubes.
This rainbow theme hanging bow-holder on the wall has completed the look of this room.
17. A Whimsical Cozy Reading Nook
Create this beautiful whimsical reading nook for your little reading fan girl. It's perfect for bedtime stories, making pictures and playing with friends.
18. The Cutest Teepee Den
Setup a cute teepee den for them to have endless fun play time in it and create memories that will last a life time. You can also grab some strings of light from Amazon to wrap around the teepee top to make it more magical.
19. Girl Vanity Set
When styling a bedroom for your little girl, try channelling their personality and things they love. Little girls love to have a glamorous dressing table with all her jewellery and makeup. Setup an ideal vanity set for your child to keep them busy for hours.
20. An Adorable Storage for her Treasures

 
If your girl is developing love for jewelry and has a collection of earrings or headbands. Setup an adorable storage for her accessories to keep them off the floor and store them away safely.
Here is another idea along the same lines. This hanging bow holder serves as a great bow storage as well as a stunning wall decoration piece.
21. A Study Corner
Having a space to work ✏️ craft ✂️ and create 💡 is the key to kid's bedroom. A bedroom is so much more than just a place to sleep. Give them a comfortable corner to learn, create and study by setting up a lovely table in the room.
22.

Peg Boards
Does your little girl love painting and crafting? She sure does need a space to display her masterpieces. The peg boards make the most fun and functional item in her room. it can be used to display her art works along with her favourite pictures to make it the coolest thing in the room.
23. Leave Some Room for the Magic
Children's rooms are the perfect place in a home for a little whimsy and fun. You want to encourage a sense of play and fantasy especially before they turn teen and may grow out of that stage.
Think about utilizing a small space to build a fort to install a little swing. Or setup a teepee or even throwing some bean bags.
24. Floating Shelves
Floating shelves are a great storage solution and provide limitless options for styling your little one's space.
They are a perfect bunk-buddy for your little bookworm to keep her books close on a loft bed. They can also be used to display her favourite frames and signs.
Here, wall and bedding has been used to create a rainbow theme in the room. Blue hue in curtains is balancing the rainbow theme without making it feel burdened.
25. Change Dresser Knobs
Let loose and allow your imagination to run wild when designing a kids room. Create magic in every little thing you could, for instance changing their dull dresser knobs to something pretty and fun.
Check out the beautiful range of dresser knobs on Amazon to make your girl's room a unique place in the most inexpensive way.
26. Add Some Sparkle
Add some sparkle and glow for your little one to make her fall in love with her room. This DIY Unicorn floral head from Amazon with 3D flowers is an amazing wall hanging for her birthday party and to use it as wall hanging after the party. Let her help you in the DIY process to give her a sense of accomplishment.
So these were all some wonderful ideas to design a girl's bedroom. Which one suit your little girl the best. Comment and let us know.