The biggest challenge of living in a small space is having less storage in the bedroom. Your bedroom is a highly personal space, and it's crucial that this space is calm and relaxing at the end of the day. But bedrooms are where actual clutter tends to hide. So here are some clever budget-friendly bedroom storage ideas for small bedrooms to make them look organized, open and relaxing.
1. Storage Bed
Storage beds are one the most obvious storage solution for the small bedroom, and they are also among the best. Storage beds can provide you many drawers. Buy a storage bed that comes with storage drawers underneath and storage chambers in the bedhead. You will be surprised by all the space these beds can offer.
2. Under Bed Storage



If you don't want to replace your current bed with a storage bed, use free space available under your bed as storage, and utilize it by putting under-bed drawers that are very convenient to pull. If you have a low bed, you can use bed-risers from Amazon available at low prices to raise your bed. They are available in different heights to choose from; get the taller ones to double-stack storage boxes under your bed.
3. Hooks, Hooks & More Hooks
Look around, and you will see many surfaces which can serve you a lot of storage space. Install hooks wherever there is little space available, for example, on the walls, behind the bed, behind the doors, inside the closet door. Install hooks to hang organizers for convenient storage of specific items. It will also help organize your essentials in the most effective way.
4. Make Full Use of Your Closet
Your closet can store a lot more than you can imagine. Get Amazon wardrobe organizers which suit your requirements.
To increase your closet space, you need to think out of the box and purchase tags/tabs to hang your clothing.
Hang S hooks on a rod to effectively increase your storage space instantly. Hang your tank tops, pants, jeans, and bags without the bulk of wooden hangers.
Install hooks on the closet's back wall to hang a storage organizer to store away your underwear or hang your handbags.
Use stacked wire bins to utilize the floor space of the closet effectively. Depending on folding, each of the stacked wire bins can hold plenty of your smaller clothing items. Set them vertically close together to squeeze as many drawers as possible. Many different types of wardrobe drawer organizers are available on Amazon in different sizes and shapes to suit your need.
5. Behind the Door
Behind the room door is a commonly used storage space idea unless you live in a shared dorm.
You can get an over-the-top hook-hanger to place on the top of the door, saving you from any installation hassle. In addition, you can hang your laundry hamper on a hook installed on the back of the door to store away all your dirty clothes.
Yoga mats can be folded into the soft cylinder, but they still take up space. So instead, install a yoga mat hanger behind your bedroom door.
6. Portable Bedroom Closet
Living in a small apartment is challenging, especially when you need two-person storage space in a small bedroom. An easy solution to this problem is getting a portable bedroom closet from Amazon. They are very accommodating in storing a lot of stuff without making your room look cluttered, and some of them are foldable for when you don't need them.
7. Clothing Rack
Freestanding clothing racks are very convenient to hang a large number of clothing and accessories. They are available with wheels so that you can place them behind the bed or in any corner of the room for easy access. They are also a great solution to your "corner-chair-piled-with-clothing" problem.
8. Space Under the Ceiling
Limited floor space in an apartment is the biggest challenge that can be worked out using free wall space.
The wall 12 inches below your ceiling can provide excellent storage space. Put that space to work by installing shelves along the wall perimeter, which results in a dozen square feet of storage space for you. If you don't want to utilize the whole edge, you could be selective and use space only over the window or door. This storage solution is best to store away long-term-use items. Make sure to pack them well before storing them or they may fall out and make a mess in the room.
9. Freestanding Jewellery Mirror with Storage
Suppose you have an extensive collection of matching jewellery but no place to store it. Freestanding Mirrors could be a great idea that doubles as a jewellery cabinet. They are available in all the colours and sizes for you to match with your room décor. In addition, they offer spacious storage space that can be used for jewellery and makeup storage and can hide all those little tiny accessories that are prone to make the most clutter in the house.
10. Floating Shelves
Floating shelves are an excellent bedroom storage solution. They free up floor space and allow more natural light to flow through your room which visually expands your area and provides storage. You can use them to store your accessories and display decoration pieces to enhance the room's appearance.
11. Multi-functional Furniture
The key to being effectively utilizing your small space is using multifunctional furniture. Get compact and multifunctional items. For example, replace your bedside tables with low height woven-storage-drawer unit matching your bed color, which can efficiently serve the bedside table purpose and enhance room décor.
12. Bedside Hanging Pocket Organizer
Small hanging bedside organizers are great to store mobile and accessories. These fabric organizers with lots of pockets can be easily tucked under the mattress hanging on the side of the bed. They are handy for organizing small accessories and preventing things from being scattered around on the bed.
13. Woven Storage Boxes
Get some woven storage boxes from Amazon matching your furniture color, stack them in a corner, and place a vase with a plant on the top. Congrats! You have not only created extra storage but also concealed it successfully as a style element. However, make sure not to stack too high. They should be equal in height to other furniture items in the room.
14. Under the Mattress
Who could have thought to utilize the space under the mattress? There are a few storage ideas hidden right in front of our eyes. You can easily store your extra bedsheets under the bed mattress. Just fold them and place them in a thin layer under the mattress. This tip works the best with mattresses that are not very thick.
15. Storage Ottoman
Using storage ottoman in your bedroom or living room is a clever way to create extra storage around the house.
Ottoman may offers a huge storage depending on its size.
They can be conveniently use to store large articles for instance quilts, blankets and bedding.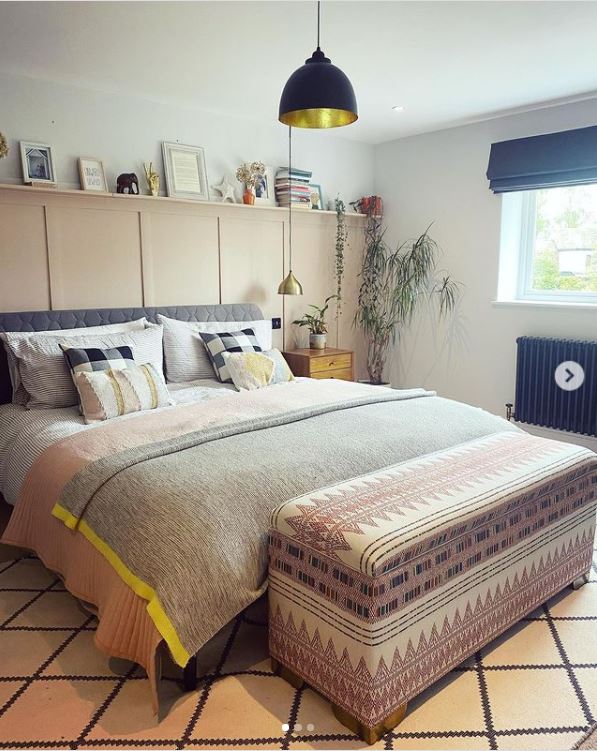 16. Save Your Storage Space by Being Organized
The best and most fantastic tip to increase your storage space, which works for everyone, is to save your storage space by being organized. De-clutter your room every few months and get rid of useless things which do not bring any joy. Arrange and organize your items well so as not to waste even an inch of available storage. It will not just make your life easy but also keep your house clean, tidy, and happy.
These were all some of the genius storage ideas from us. We hope a few of these unique storage ideas will help you to sort your bedroom storage problem out.
How do you manage storage around your house, comment and share with us.